Bachelor Project

The fast fashion industry has proven to be remarkable for sustaining the global economy. Millions of workers are currently employed in this industry and it serves as a source of income for them. Tactlessly, the fashion industry, and more precisely the fast fashion industry that has developed in just a few decades, has taken up many issues relating to the environment, the economy, and society in general. The fast fashion industry has contributed to the growth of the world economy. Although it has contributed significantly to the economies of many countries, it is also important to ask whether the industry ensures that it operates under ethical conditions. This concerns environmental sustainability and the living conditions of the people who work in the industry. The purpose of this study is to determine whether this is being followed or whether unethical issues are still being used. Additionally, my research aims to understand why the fast-fashion consumer is still preferring unsustainable and unethical brands over sustainable options, even though the awareness of the Environmental and

Ethical Problems created by the Fashion Industry is rising. The Industry not only has a huge contribution to the destruction of our eco-system, but the working conditions are also morally reprehensible. Additionally, it constructs an unhealthy Image of beauty, which causes mental illness - driving the consumers to buy the products to feel satisfied for a moment. This caused some brands to better their behavior. However, the numbers of unethical, unsustainable fashion being purchased are still rising. I want to close this gap with design, as many Brands who address this issue have a natural aesthetic that typically speaks to those who are not part of the problem. I want to create a sustainable brand with an aesthetic matching the Fashion Zeitgeist, and therefore attract consumers primarily for the aesthetics, not the ethical part. The Brand should help consumers to understand the power of their decisions and show them how to express themselves through fashion without supporting fast fashion.
BOA
https://
www.instagram.com/boa__apparel/
BOA, an ethical, sustainable fashion brand that is addressing numerous problems in the fashion Industry. The Ouroborus is the brand's logo that aims to establish the concept that nothing is a waste and can is reusable in some way. Ouroborus is embodied by the snake boa, which is also the Brands Name. The snake with its ability to shed its skin is a symbol of change. I have created the first small collection from recycled, unwanted garments and sustainable fabrics. The aim is to satisfy the consumer's need to own new clothes without being morally reprehensible. The brand's Instagram page also posts information threads that alert viewers to the problems that exist in the fashion industry. This provides a space to get informed to make ethical fashion a standard. The Brands Concept Keywords are Sustainability, Diversity, and Futuristic.
Logo Snake Model made with Cinema4D.
First Small Collection


Lilli Minhoff crafted the unikat tops, pants, and hoodie portrayed here out of recycled and sustainable fabrics, ribbon, and rhine stones attached by hand.

The Makeup Statements made out of watertattoos are inspired by John Yuyi.

The models are Vivianne Gasca, Rengin Tüjen, and Jack Lai.

The Necklace worn by Jack Lai is made by Koral Sagular.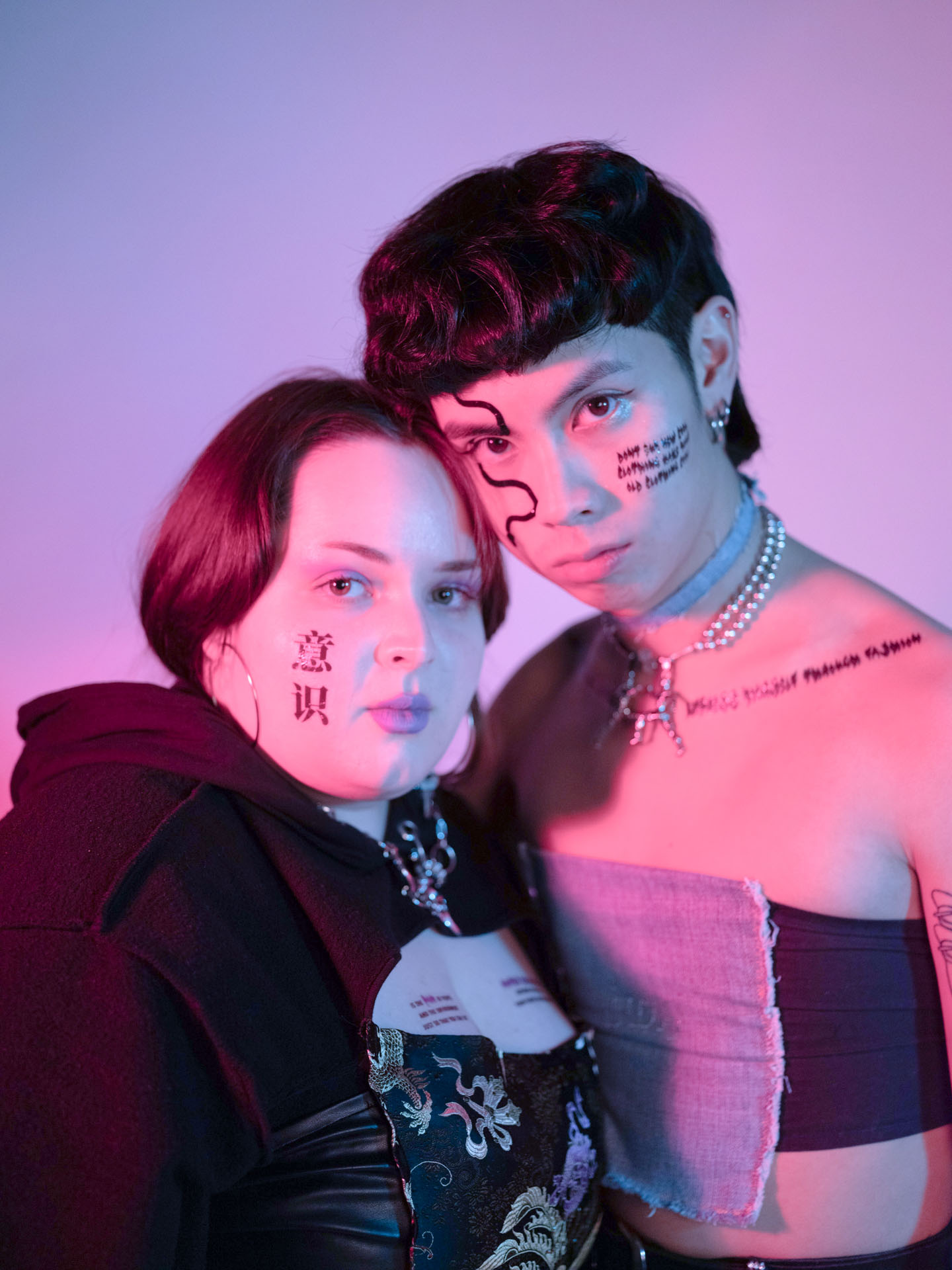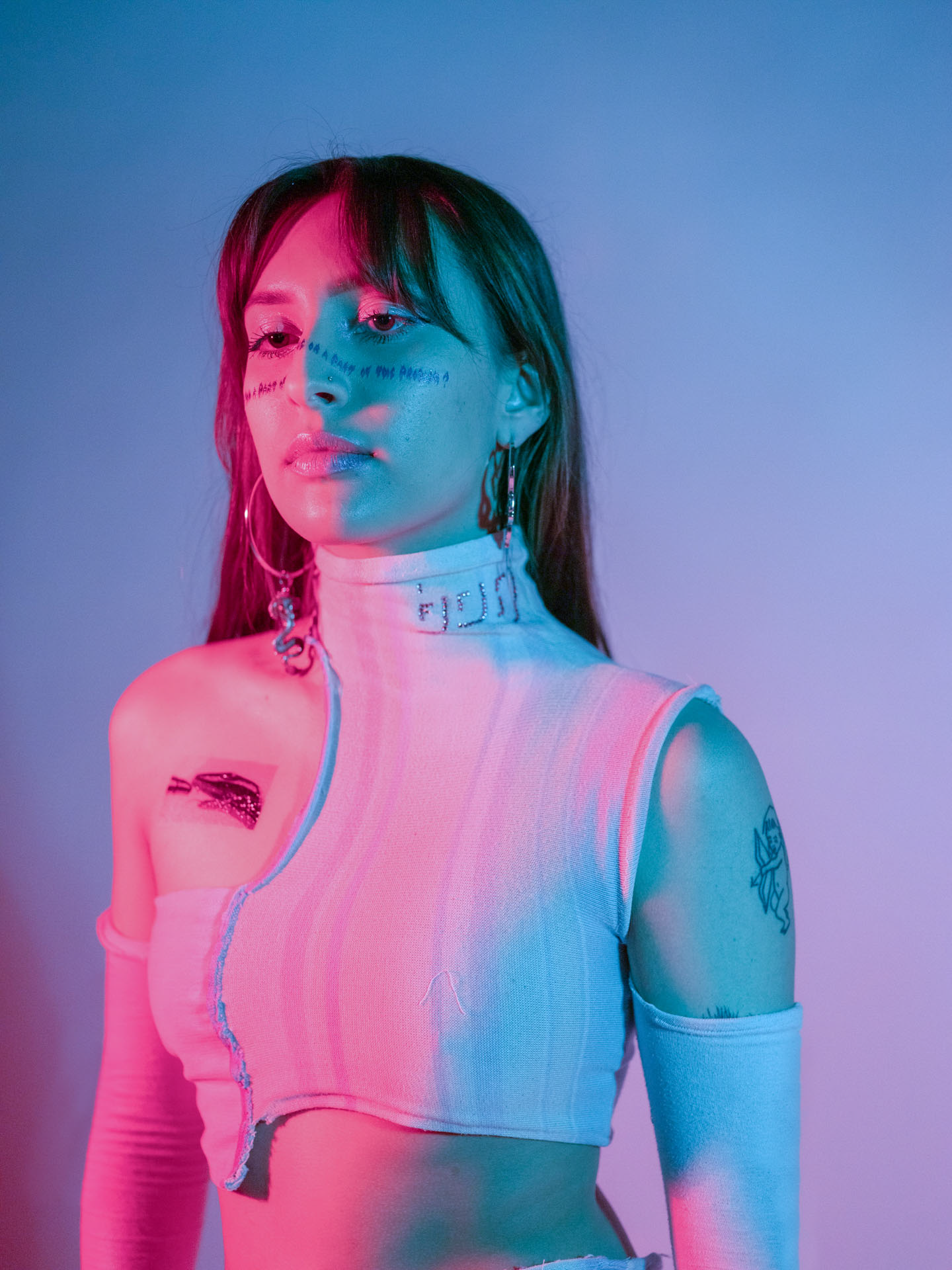 Small Information Series